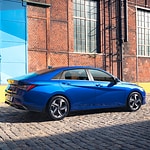 The safety of you and your passengers is Hyundai's number one priority. The all-new 2022 Hyundai Elantra has an impressive suite of safety features. One of the most notable safety features of the Hyundai Elantra is its advanced driver assistance system. This system uses sensors to monitor your surroundings and can provide warnings if it detects a potential collision. It can even apply the brakes automatically if necessary.
The Hyundai Elantra also features a blind spot monitoring system, which uses sensors to monitor vehicles in your blind spot and will provide a warning if it detects one. In addition to its advanced driver assistance systems, the Hyundai Elantra also features several other safety features. These include a reinforced chassis, which helps to protect occupants in the event of a collision, as well as side-impact airbags and front and rear crumple zones.
So whether you're commuting to work or taking a family vacation, you can rest assured that you're safe in the all-new Hyundai Elantra. You can test drive it at Weimer Hyundai of Morgantown in Morgantown, WV.