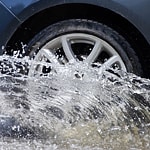 Here at Weimer Hyundai of Morgantown, we take your safety seriously. We sell only high-quality vehicles that are thoroughly inspected, and we encourage our customers to stay up to date with routine maintenance. We also like to share advice and suggestions for automotive and driving safety when we care. Today, let's talk about driving in wet weather conditions. We hope you'll appreciate these tips on how to avoid hydroplaning.
Tire care is of utmost importance when it comes to vehicle maintenance. One of the top reasons is to help you to better navigate slick roadways. Well-tread tires that are inflated to recommended standards provide optimal traction and are a strong defense against hydroplaning.
You can also lessen your chances of skidding by simply driving below the speed limit. Turn into curves gently and apply brake pressure lightly. Try to avoid driving through standing water, and turn off your cruise control when it's raining.