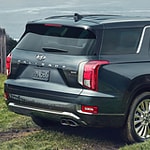 Since it's introduction to the market in Morgantown, the Palisade has gained a lot of fans. This three-row SUV feels like a high-end vehicle in many ways, and it looks like one, too.
Thanks to LED headlights, LED accents, and LED daytime running lights, the Palisade gives off a modern vibe. Some of its trims have welcome lights on their door handles and side mirrors. Those side mirrors are quite advanced, having heaters integrated into them as well as LED turn signals and an auto-dimming function.
The proximity key entry system on the Palisade is very convenient to have. Some models that you'll find at Weimer Hyundai of Morgantown also have hands-free smart liftgates. With one of these, you can open up the back by simply waving your foot underneath the sensor. This kind of liftgate has an adjustable height setting, just in case you have to park in a garage with low clearance.